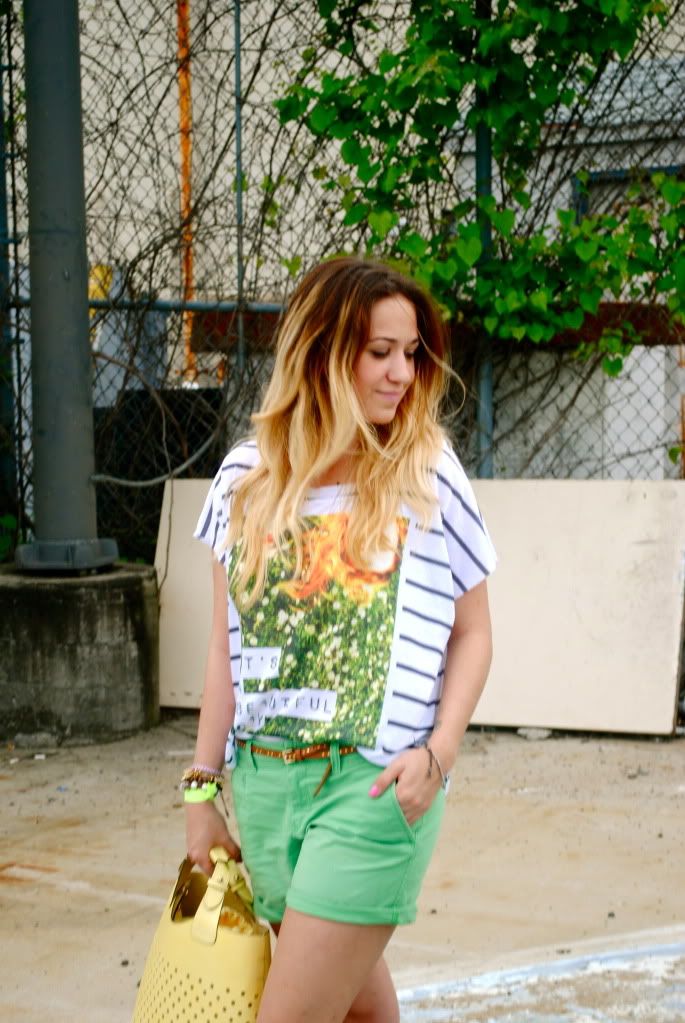 last week i wore just your basic, flat leopard loafers on a cooking class date with my boyfriend. on the way there he looked at me and asked, "so, do you have your cooking shoes on?" we looked down at my feet, i replied proudly "yup!" it was cute. who says leopard isn't normal kitchen attire? if anything, i think that this bright and printed ensemble enhanced my usually dormant cooking skills.
i told you i was getting this bag. only when i said that a few weeks ago, it was before it came in yellow. and so it ended with an actual, physical visit to zara that i went to make the switch. i forgot how much more amazing it is all is in person rather than on a computer screen. i'm making a note to do that more often.
this graphic tee is from the target sale rack for ten dollars on my lunch break, i swapped for these gap shorts at the dew drop clothing swap a few weeks ago

(aka they were free)

and my shoes are dsw clearance rack steve madden's. this is exactly how i like to dress... random steals and one to two quality pieces.
Target Shirt | GAP Shorts (similar) | ZARA Mini Shopper | STEVE MADDEN Leopard Flats/Loafers (buy here) | J.CREW Studded Belt (love this one)
a closer look:
Bloglovin + Facebook + Twitter